Rheumatoid Arthritis is an inflammatory and autoimmune medical disease that affects the immune system of the patient. Your immune system works faulty in this disease and kills its own healthy cells. It causes inflammation in the affected parts of the body.
Rheumatoid Arthritis can involve small and large joints of the body like the wrist, small joints of the hand, shoulder, knee, and ankle joints. It can lead to pain around joints, swelling, and early morning stiffness. The effect of Rheumatoid Arthritis is on the important body organs such as lungs, eyes, and heart.
Rheumatoid Arthritis Symptoms & Signs
Stiffness happening in the joints
Weakness
Feverish feeling.
Tiredness
Weight loss
Swelling in the joints
Fatigue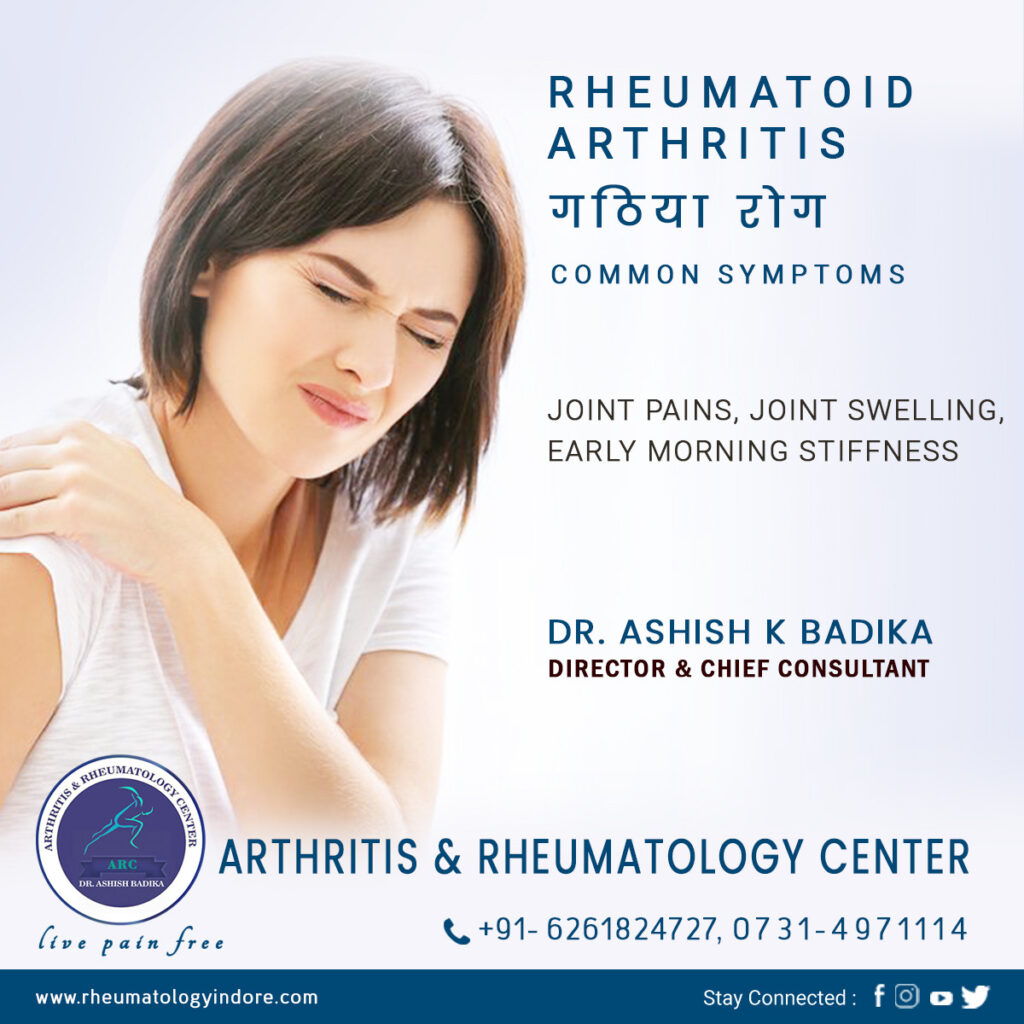 Causes behind Rheumatoid Arthritis
The malfunctioning immune system is the cause behind Rheumatoid Arthritis. Your body's immune system affects healthy cells.
Diagnosis of Rheumatoid Arthritis
The doctor will first do the review of the symptoms and then make the clinical diagnosis of Rheumatoid Arthritis. Furthermore, the doctors do the checkup of the patients' physical examination, lab tests and X-rays, Joint Ultrasound, and MRI scans (if required)
During the onset of symptoms, it is best to get diagnosed. It will possibly only when you consulted the doctor at the earliest. Timely treatment is of the disease can slow down or stops the progression of Rheumatoid Arthritis. Effective treatment is beneficial in controlling or stopping the inflammation. It is helpful to stop the progression of RA. Qualified well-trained Rheumatologists can only handle the treatment of RA.
Dr. Ashish K Badika has 3 years of advanced training in Rheumatology and Clinical Immunology including 2 years Post Doctoral.
He has extensive exposure to Systemic Autoimmune Disorder (Rheumatoid arthritis, Psoriatic arthritis, Seronegative spondyloarthritis, Systemic lupus erythematosus, Scleroderma, Gout, Myositis, Sjogren's Syndrome, Vasculitic conditions, and Paediatric rheumatology disorders).