It is important to start the early treatment of rheumatoid arthritis. Early treatment will stop the progression of the damage to the joints. Rheumatologists assess the damage in the joints through clinical examinations, blood tests, X-rays, and MRI test reports.
How does the early treatment of rheumatoid arthritis look like?
The early treatment of rheumatoid arthritis is DMARD's (disease-modifying antirheumatic drugs). As the name is self-explanatory it modifies the disease process. Pain Killers and low-dose steroids are used as an initial treatment and then withdrawn slowly. Do not get afraid of these drugs. Rheumatologists are well equipped to handle the drugs.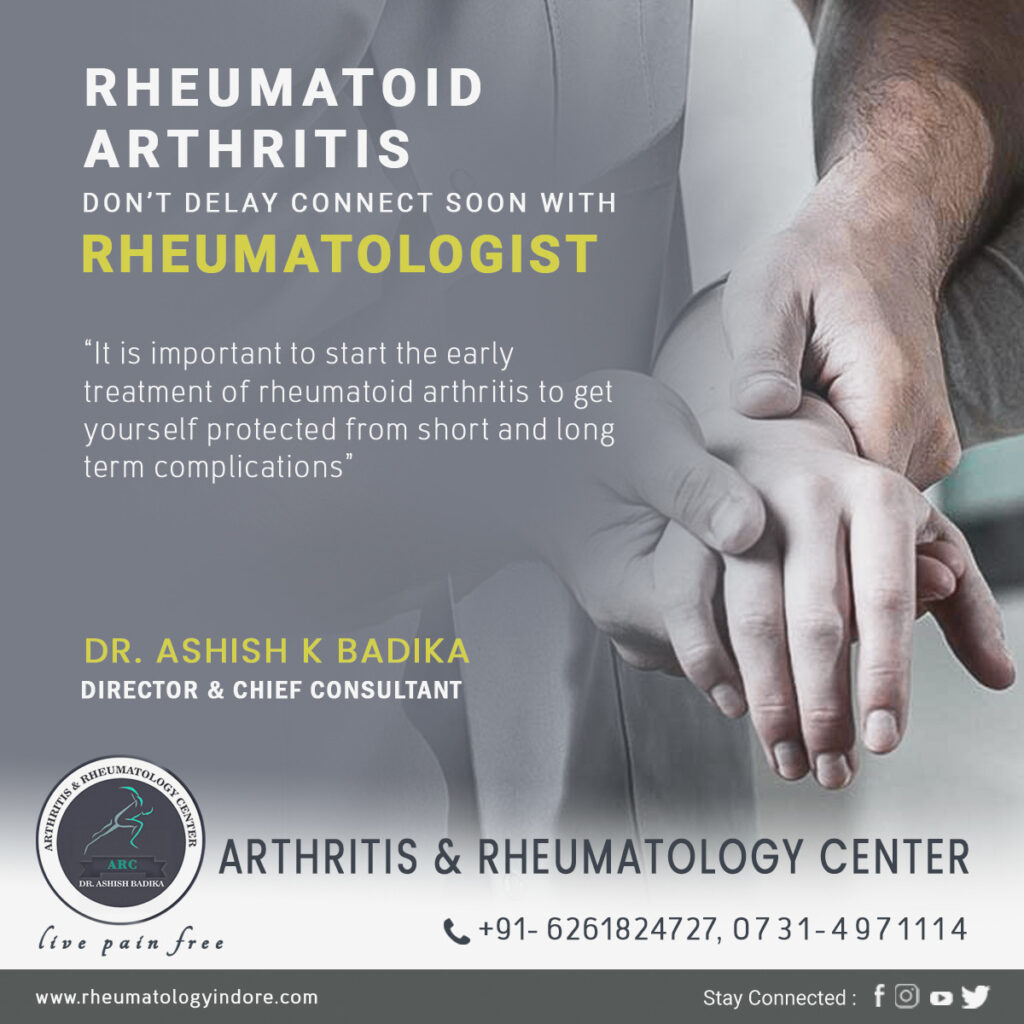 Advanced treatment of Rheumatoid Arthritis can be used in patients not responding to the above treatment. Lifestyle changes are important in the treatment of rheumatoid arthritis.
It has been recommended that people with rheumatoid arthritis make some lifestyle changes for better outcomes.
Start low-impact exercises: Start doing some low-impact exercises like stretching and yoga to recover from stiffness issues.
Avoid smoking: People do smoking have a high risk to suffer from rheumatoid arthritis. You have rheumatoid arthritis then, quit smoking to reduce the damage.
Shed extra pounds from your body: You should start focusing on weight loss strategies.
Not major changes in your food habits are really required. Omega 3 fatty acids rich food are good for RA patients
Consult your rheumatologist to get the right treatment for you.
Dr. Ashish K Badika has 3 years of advanced training in Rheumatology and Clinical Immunology including 2 years Post Doctoral.
He has extensive exposure to Systemic Autoimmune Disorder (Rheumatoid arthritis, Psoriatic arthritis, Seronegative spondyloarthritis, Systemic lupus erythematosus, Scleroderma, Gout, Myositis, Sjogren's Syndrome, Vasculitic conditions, and Paediatric rheumatology disorders).