It has been seen that people have various kinds of myths in relation to Rheumatoid arthritis (RA). Here are the facts:
Rheumatoid Arthritis Affects Only Joints
False. R can affect multiple body organs such as the heart, lungs, liver, and kidneys, not just the joints. In fact, it can also cause systemic symptoms such as fatigue, weakness, and fever.
Joints Deformities Cannot be Prevented
It is not like that. Joint deformities can be prevented if the treatment is optimized by the best use of medicines, this needs a lot of skill and experience which a qualified rheumatologist can only provide.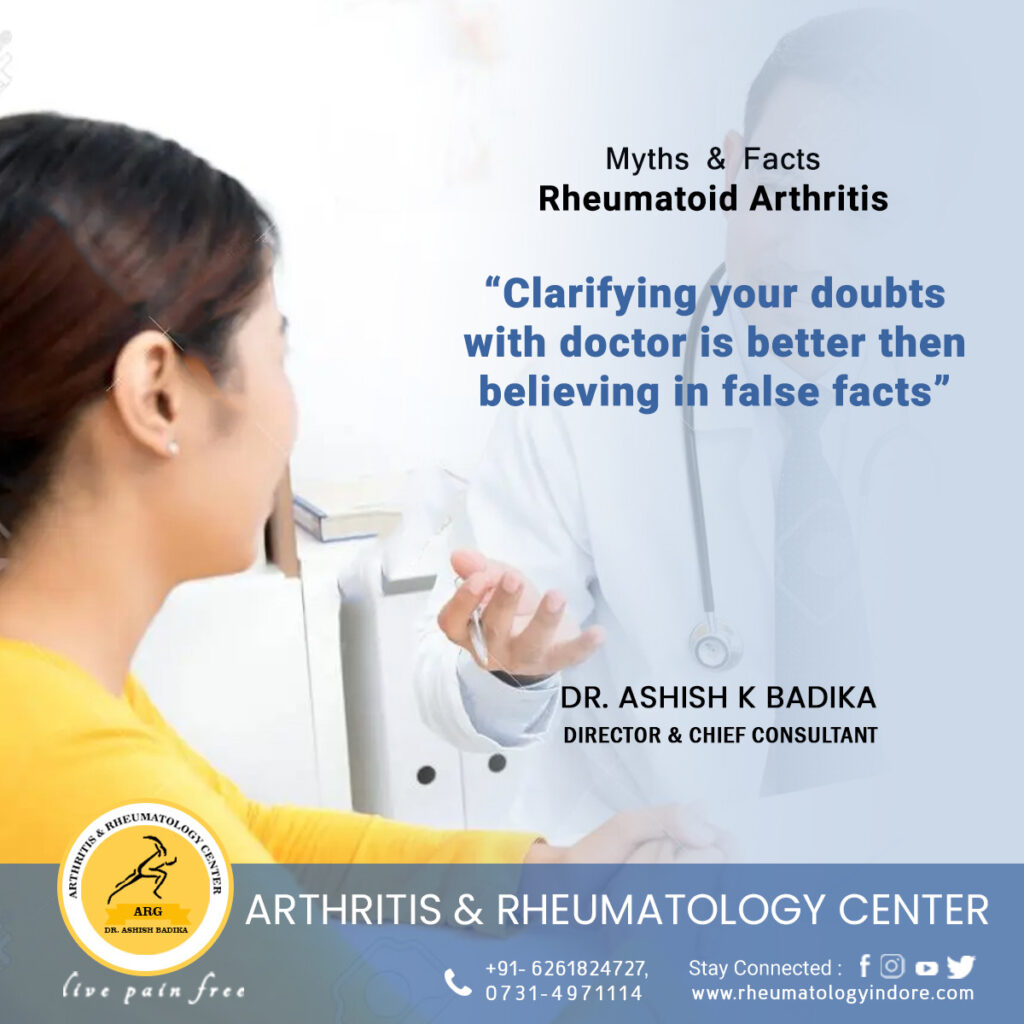 Rheumatoid Arthritis is an Incurable Disease
Development in the last few years options for the treatment of RA has evolved tremendously. Early diagnosis and a systematic approach for treating RA can be very effectively managed. In every stage of the disease, a qualified rheumatologist can use several interventions for relieving pain and stiffness.
Medicines Used in the Treatment of Rheumatoid Arthritis are Very Harmful
No doubt that the treatment of rheumatoid arthritis is very complex and must always be supervised by a highly experienced rheumatologist. Usage of correct medicines and the right doses will certainly give the desired benefit in RA avoiding side effects.
Ask your doubts and clarify with your Rheumatologist rather than believing false facts.
Dr. Ashish K Badika has 3 years of advanced training in Rheumatology and Clinical Immunology including 2 years Post Doctoral.
He has extensive exposure to Systemic Autoimmune Disorder (Rheumatoid arthritis, Psoriatic arthritis, Seronegative spondyloarthritis, Systemic lupus erythematosus, Scleroderma, Gout, Myositis, Sjogren's Syndrome, Vasculitic conditions, and Paediatric rheumatology disorders).