We have a natural tendency to make assumptions about the name of the disease. The word arthritis conveys a sense of age, symptoms, and untreatable. Here are some of the myths and the facts of this disease.
Myth – Rheumatoid Arthritis is only a part of aging
Fact – Rheumatoid Arthritis can affect people of all ages. While the disease is generally seen in people between the ages of 30 and 60, it can be seen in young adults, teens, and even children too.
Myth – Rheumatoid Arthritis only affects the joints
In most people, the first symptoms of Rheumatoid Arthritis are typically joint pains and swelling, but the disease can affect the lungs, heart, blood vessels, and other parts of the body in a later stage if not diagnosed and treated early.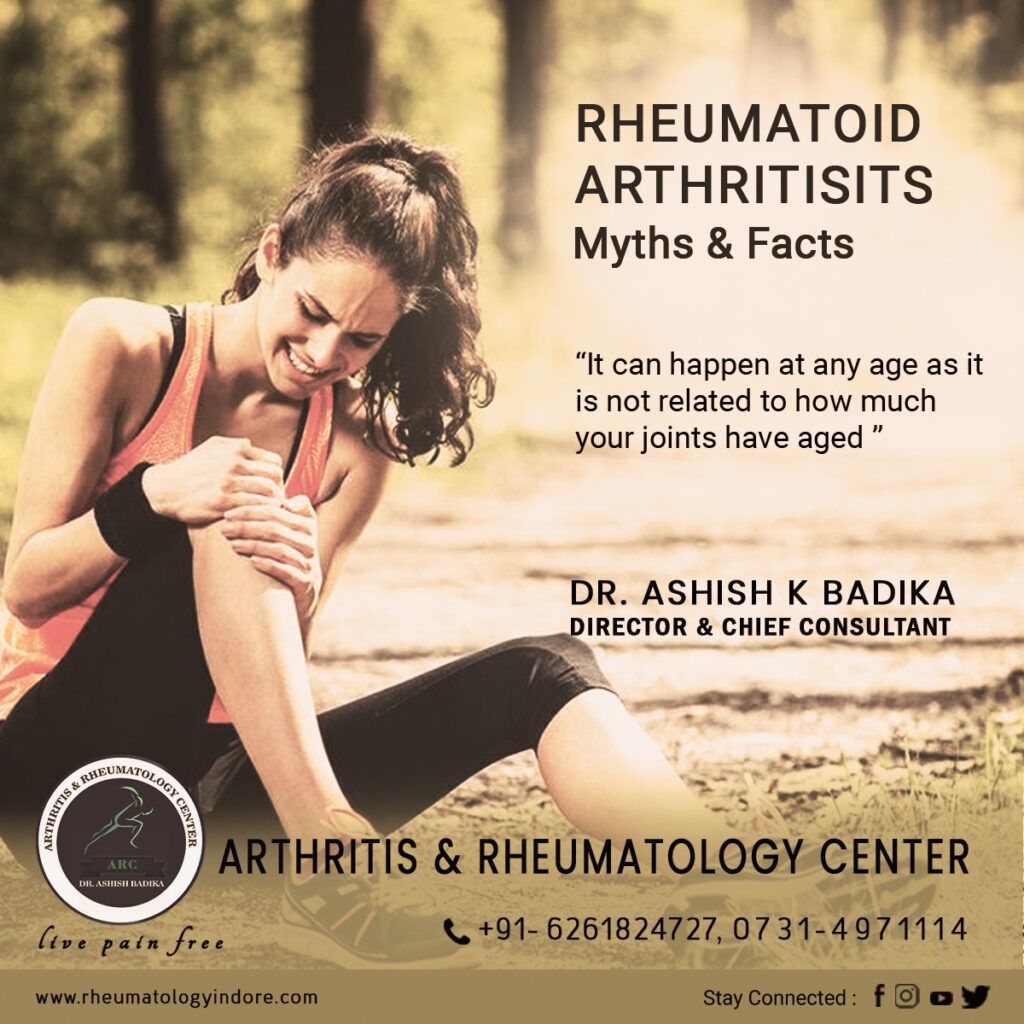 Myth – Side effects are too risky and don't justify medication
No, the negative effect of avoiding medications is much greater. Left unchecked, the inflammation caused by Rheumatoid Arthritis can result in loss of function, anemia, coronary artery disease, osteoporosis, and other serious conditions.
Myth – There is no treatment of RA
While there is no cure for RA, targeted therapies with disease-modifying biologics can slow the progression of the disease,
You can take things under your control provided you promptly reach out to your doctor and follow his advice.
Myth – There's nothing you can do once you have RA.
Fact – Taking care of yourself and staying on top of the disease is a big part of RA treatment. Take your medicine as directed. Try not to skip a dose. Tell your doctor about any side effects.
Myth – Changes in one's lifestyle have no effect on RA.
Fact – Smokers have a considerably increased risk of having severe RA inflammation and disease progression, according to studies. Obesity plays a role in all types of arthritis because excess weight puts more stress on joints. Weight loss can help overweight people with a variety of symptoms, especially those related to arthritis in the knees.
Myth – Joint deterioration is unavoidable in RA Patients.
Fact – With continuous research and studies on this disease resulting in improved therapy choices, most patients can now keep the disease under control enough to maintain normal function and avoid abnormalities, especially in the hands.
Dr. Ashish K Badika has 3 years of advanced training in Rheumatology and Clinical Immunology including 2 years Post Doctoral.
He has extensive exposure to Systemic Autoimmune Disorder (Rheumatoid arthritis, Psoriatic arthritis, Seronegative spondyloarthritis, Systemic lupus erythematosus, Scleroderma, Gout, Myositis, Sjogren's Syndrome, Vasculitic conditions, and Paediatric rheumatology disorders).