The majority of patients with Rheumatoid Arthritis (RA) never require surgery if they are diagnosed at an early stage of disease and they are taking regular treatment under Rheumatologist care. However, some patients may require surgery in form of Joint replacements, arthrodesis, and synovectomy.
Joint Replacement
Patients can be advised for joint replacements for major joints like the shoulders, hips, or knees and minor joints like the fingers and toes. Joint replacement surgery is removing all or part of a damaged joint and replacing it with a synthetic replacement.
Arthrodesis
The injured joint is removed during arthrodesis, and the adjacent bones are bonded together. The technique severely restricts movement while increasing stability and relieving pain in the afflicted joints.
Arthrodesis is typically performed to treat arthritic ankles, toes, wrists, or finger joints. It can also be used to stabilise uncomfortable spine joints (called spinal fusion). Arthrodesis may necessitate the use of bone grafts extracted from the patient's own pelvis.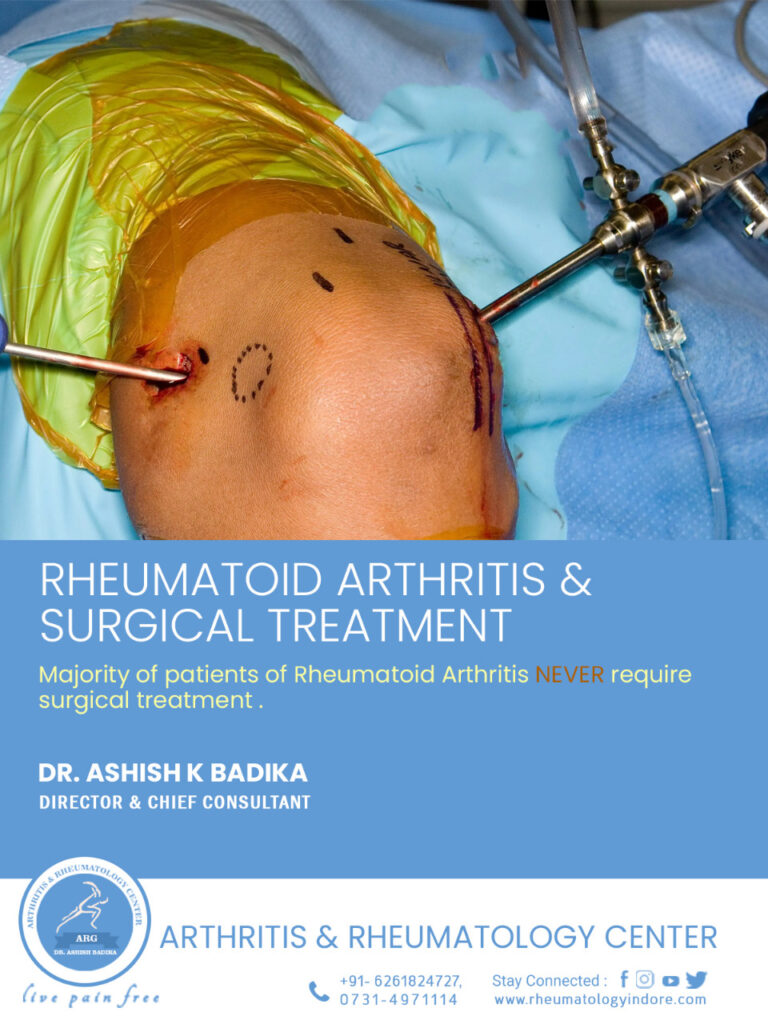 Synovectomy
The surgeon removes the inflammatory synovial tissue around the joint during this operation. The surgeon seeks to alleviate or eradicate the patient's symptoms by eliminating the afflicted tissue. But since every tissue can't be removed from the affected area, inflammation, oedema, and discomfort may reoccur.
A patient must consult his doctor/surgeon to get the right advice and suggestions on which operation if required, is right for him/her.
Dr. Ashish K Badika has 3 years of advanced training in Rheumatology and Clinical Immunology including 2 years Post Doctoral.
He has extensive exposure to Systemic Autoimmune Disorder (Rheumatoid arthritis, Psoriatic arthritis, Seronegative spondyloarthritis, Systemic lupus erythematosus, Scleroderma, Gout, Myositis, Sjogren's Syndrome, Vasculitic conditions, and Paediatric rheumatology disorders).