The focus of treating rheumatoid arthritis has moved to early symptom relief, prevention of disability/deformities, and sustained relief. The current treatment goal of RA is to achieve the lowest possible level of arthritis activity and relief while minimizing joint damage and improving physical function and quality of life.
Effective diagnosis and treatment, especially treatments that inhibit or control inflammation, can help reduce the destructive effects of Rheumatoid Arthritis. Current therapies provide most patients with good or excellent symptom relief and allow them to continue to function at or near-normal levels. With the correct medication, many patients show no signs of active disease. While you are in remission, not only do the symptoms disappear but the disease also stops progressing.
The long-term goal of treating Rheumatoid Arthritis disease is to slow or stop disease, especially joint damage. Since RA cannot be cured, the goal of treatment is to reduce pain and stop further damage. To prevent Rheumatoid Arthritis patients from developing cardiovascular disease, Rheumatoid Arthritis treatment also aims to reduce the risk factors of cardiovascular disease.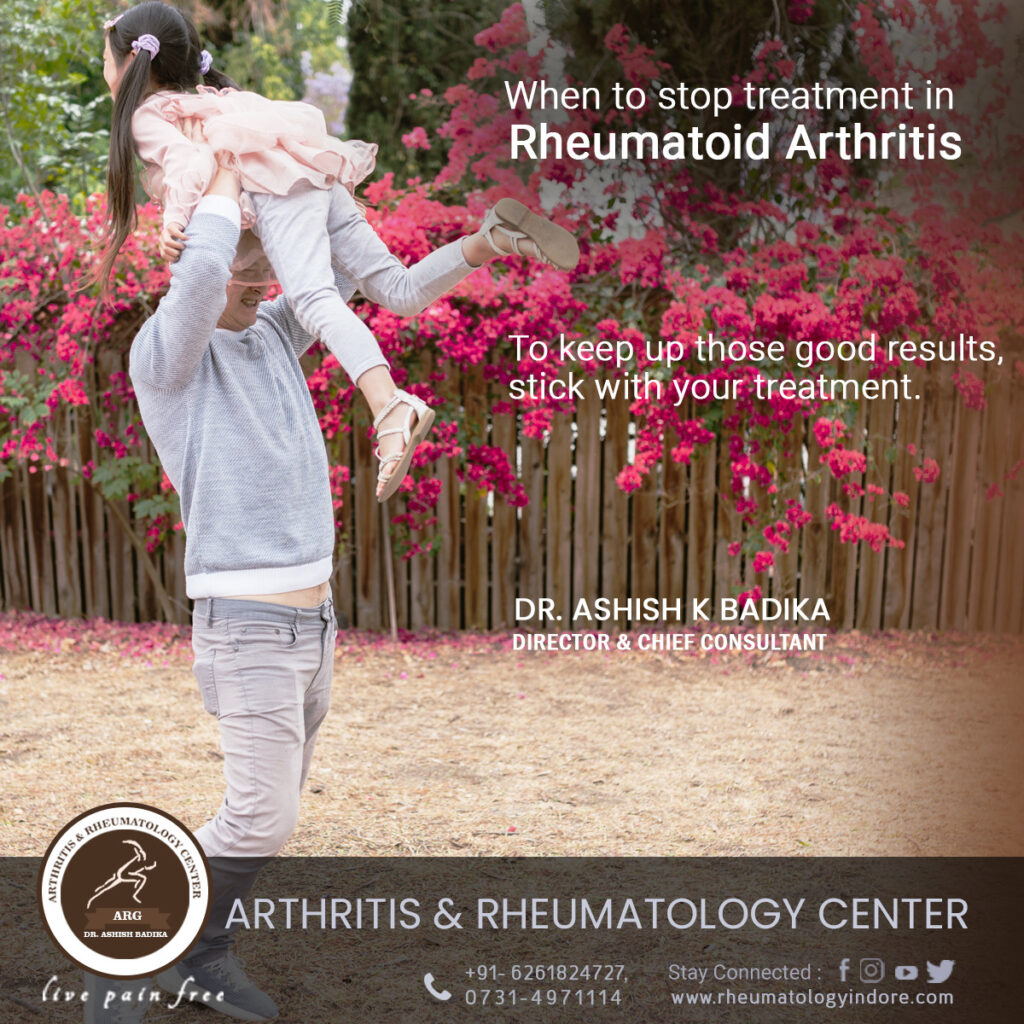 When planning treatment, the rheumatologist takes into account the effectiveness and risks of drugs. Once your disease is controlled your doctor can reduce the dose/number of tables.
Never stop treatment on your own, nor continue taking drugs on your own to get protected from complications and side effects of drugs. It's a lifelong disease with lifelong treatment under supervision.
Dr. Ashish K Badika has 3 years of advanced training in Rheumatology and Clinical Immunology including 2 years Post Doctoral.
He has extensive exposure to Systemic Autoimmune Disorder (Rheumatoid arthritis, Psoriatic arthritis, Seronegative spondyloarthritis, Systemic lupus erythematosus, Scleroderma, Gout, Myositis, Sjogren's Syndrome, Vasculitic conditions, and Paediatric rheumatology disorders).